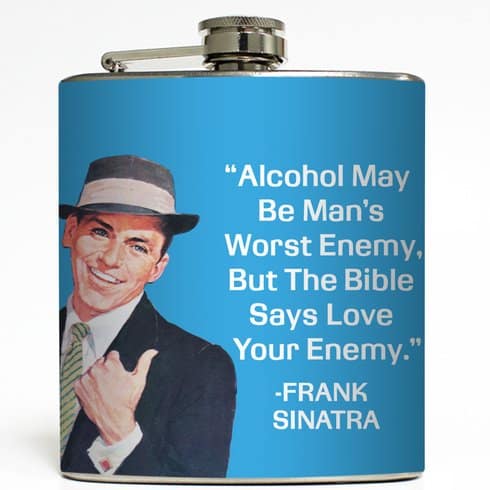 Believe in me, Christmas 2014 will come
Most of the Vodka lovers are not very demanding candidates when it comes to their wish list for presents. Give them a good Vodka in an interesting bottle and they'll be happy. Wrap the present nicely if you can. Put a card on it. If you do not really want to feed any Vodka passion, but also not ignore it completely, we have some brilliant ideas for you.
Life-saving emergency rations of Vodka
A certain amount of Vodka can do so many good things in life. If you always drink responsibly, everything is fine. Sometimes a drink offered to strangers at the right time can open doors for you. Some other times, a small hip flask of Vodka in your jacket can save you from frustration when your football team is about to loose. In other situations – for example after a long straining day in the Office – your train ride home can at least be sweetened with some Fazer Liquor Fills with Vodka. Instead of wrapping your Vodka bottle in brown paper when you go to the beach to celebrate a spectacular sunset later on, you could decide to use your GoPong Hidden Sunscreen Alcohol Flask to pour you some Vodka. Don't forget the glass because it looks silly when you drink from a sunscreen bottle. Alternatively, you can buy a guitar shaped stainless steel flask for a notorious rockfan. B & F System Inc. produces one that will make headbanging at a rock concert more effective. Even here you need to be sure that the person you give the present to, will drink responsibly.
Vodka connoisseurs often prefer their own brand to any other brand. At times you have no choice: You need to take you own brand with you somehow. Or you want to enable someone you know to do exactly that. How about finding a small take-away Vodka hip flask with style? "Liquid Courage Flasks" present some very nice stainless steel hip flasks with room for six ounces of fluid content. For example, you could wrap the "My spirit animal is Grey Goose"-flask for a good friend of yours. You could also transport a message of wisdom like "Alcohol doesn't solve any problems, but then again, neither does milk". Can a small present for a Christmas dinner or a jubilee barbecue be nicer and more welcome? Most of the people will appreciate this one: "I only drink when I'm alone or with others". There's always an occasion for a good Vodka. Here are some other choices that will make you or others happy:
– "Vodka mixes well with everything except decisions"
– "If necessary, I create my own Happy Hours"
– "God, grant me the Vodka to accept things I cannot change"
– "I used to drink… but that was hours ago"
– "Alcohol may be man's worst enemy but the Bible says love your enemy"
You should always be aware that some people do not like ironic remarks about alcohol. Take care that you do not offend someone with a present like this. Varying degrees of happiness after drinking Vodka – like depicted in this Vodka flask – could lead into a dependency on alcohol. I still like the "Liquid Courage Flasks" for their nostalgic touch and great humor. Some society rules are more acceptable when you forget about them at times.