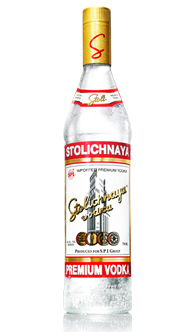 Stolichnaya Vodka
Stolichnaya Vodka – the epitome of an "Original Russian Vodka" – is not so Russian at all. For example, for international export it is produced in Latvia. Latvian water plus rye and wheat are the main ingredients of the export Stoli. Russian Russians drink Stolichnaya that is distilled by a Kaliningrad company. In the original Stolichnaya Vodka, artesian water from Kaliningrad is used. You can distinguish between the two Vodkas when you read the label. The Russian original reads "Russian Vodka". The Latvian export-version reads "Premium Vodka" or "Imported Premium Vodka". Does it make a palpable difference? No. You get as drunk on original Stoli as with the export Stolychnaya. The comforting fact about Stoli is: You will not have a splitting headache afterwards.
The Stoli legend comes alive
No-one knows exactly when and where the first bottle of Stolichnaya was filled. What we know is this: Russian authorities asked for a good home-made Vodka when the "Moscow State Wine Warehouse No. 1" opened its doors in 1901. But it was around 1947 that the Russian premium brand "Stolichnaya" was introduced. As long as the Soviet Union existed, all export Stoli was produced in the Ukraine. Maybe that explains why Putin wants to annex this country. Old hostilities last long in Russia. However, it is more interesting to tell how Stoli conquered America in 1972. Actually, it was a deal by "Pepsi Cola" that made it possible. In exchange for selling Pepsi in Moscow, Pepsi got the marketing rights for Stoli. For once, Pepsi beat "Coca Cola" in being the first one somewhere. Uncountable law-suits around the use of the brand-name "Stolichnaya" ended in the verdict that Pepsi was allowed to use it exclusively in the USA, otherwise the brands name would be "irreparably harmed". You begin to understand that Russian legend-building differs from American marketing strategies. It is too complicated to follow the historic developments that built the Stoli legend. However, Latvian export Stoli is part of the American culture by now. Eminem prominently placed a bottle of Stoli in his video for the song "Love the way you lie" on 2010. New York Yankee games in TV are decorated with digital Stoli Banners. Stoli is present in sitcoms, in musicals like "Rent" or in TV-series like "Mad Men". Fame in America is enhanced by intelligent product-placement.
Stoli conquers the American cocktail bar
Most of the Russians drink their Stoli stiff. They choose between four pure Stolichnaya versions: "Stolichnaya 80 proof" with a red label, "Stolichnaya 80 proof" with a golden label, "Stolichnaya 100 proof" with a blue label and the luxury-version "Stolichnaya Elit". For American taste-buds, these are absolutely great Vodkas – as long as they are flavored or mixed with other cocktail ingredients. So meanwhile, you can buy Stolichnaya with blackberry, blueberry, citrus or cranberry aroma. You can detect "Apple Stoli", "Stoli Ohranj" and "Stoli Peachik", as well as Stoli aromas like raspberry, strawberry, vanilla, honey, white pomegranate or wild cherry. International taste-aberrations are also served with "Stoli Chocolat Razberi", a hot Jalapeño Stoli, "Stoli Chocolat Kokonut" or "Stoli Salted Karamel". All these Stoli versions come to us in transparent bottles with differing banderols and label colors. "Stolichnaya Elit", the Russian premium Vodka, is delivered in a more prestigious bottle. This elegant and slim Vodka-bottle appealed to me first of all. The mild taste of "Stolichnaya Elit" is absolutely convincing. Some people register an oily taste when they put the bottle into the fridge. Russians never drink their Stoli ice-cold. If they can afford a "Stolichnaya Elit", they prefer to drink it at room temperature. For bottle collectors, the Stoli Elit bottle is a must. If you should need a representative present for a jubilee, a bottle of Stolichnaya Vodka in a Jeroboam bottle is a fine choice. The extraordinary taste will give you some credit somewhere.
Two lifestyles, one Vodka
Nothing is more interesting as when people discuss other people over some shot glasses of Stolichnaya. For example, watch some German bar-crawlers discuss Russians and Americans. Very amusing sometimes. Observe Russian dacha-owners discussing American politics and Americans discussing Putins politics. We can imagine where these Stoli discussions end. However, in privacy Russian people are quite different. They get emotional over some glasses of Vodka, they dance and sing, remember good times and bad ones – and with the ending of every prolonged Vodka drinking-bout you part as friends. That is, when you are still able to walk out the door. I prefer my Stoli at home where my private bar is situated. Here I can be sure I just drink one or two shot glasses of Stolichnaya Vodka. Of course I sometimes share the contents of my Vodka collection with good friends. We recently tested a bottle of "Stolichnaya Gold" which surprisingly contains sugar. Gourmets among my friends traced some anise and other aromas in the lightly sweet and oily liquid. Even if "Stolichnaya Gold" is distilled at the famed "Grand Distillery" of Moscow and presented as one of the rarest and best Russian Vodkas, I prefer "Stolichnaya Elit" to it. The remarkable thing is: Americans and Russians live two very different lifestyles and seemingly do not have so much in common. Over a glass of Stoli we detect something that we both enjoy. We could certainly find much more if we'd really try. Even without Stoli-diplomacy.
What do you think about Stoli Vodka? Let me know on FB or Twitter!