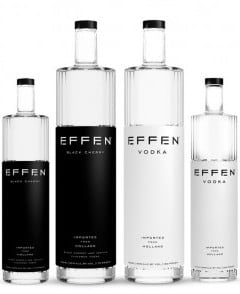 A lesson in style: Effen Vodka
The day when my eyes first fell on the elegant designer bottles of Effen Vodka, will never be forgotten. You think you've seen all great bottle-designs on this planet? Maybe you haven't. Famed artists like Van Gogh came from the Netherlands. Effen Vodka makes clear that modern design from Holland is also excellent and outstanding. It is only sold much cheaper.
The art of reduction
Yes, the art of reduction is what makes Effen Vodka so great. Reduction in form as well as reduction in flavor selection make for a great evening. You do not need to choose between countless aromas. That may change in the future. Right now, choices can be made between "Effen Original", "Effen Black Cherry", "Effen Cucumber", "Effen Dutch Raspberry Vodka" and "Effen Salted Caramel" Vodka. The bottle alone is absolutely breathtaking in my opinion. It is elegant. It is modern, exclusive and stylish. It makes your private bar look very noble. The secret behind the bottle-design is that Dutch bartenders and mixologists from the Netherlands helped to develop a unique bottle with additional function. For example, there's a insulating polymer bottle sleeve that keeps the Effen Vodka extra cold. It also cares for a good grip when you touch the bottle with wet hands. Very thoughtful, that. The excellent and silk-like alcoholic contents of the Effen Vodka bottle are the result of only using premium Dutch wheat and clear spring water. The distilling process and a "bottom-up" filtration business are prolonged efforts. Effen invented a low temperature process called "continuous rectification" to avoid any "caramelization" of the sugars. Traces of burnt sugar make the taste of Vodka harsh, experts say. Effen Vodka is indeed as smooth as silk. No bitterness. That is, if you don't drink too many shots.
Excellence in style and taste
Of course the Dutch producers of Effen Vodka insist that this is the best vodka available on earth. Bartenders say that Effen "Pure Inside" Vodka makes an excellent and crisp cocktail Vodka. No wonder. Some Dutch bartenders helped with the development of this pure Vodka. Of course, these men were also open for an interesting selection of flavored Effen Vodkas. International Vodka consumers are not always in for a stiff pure Vodka. At times a Vodka Cocktail is very nice and more advisable also. If you surprise your visitors with an Effen Cucumber Vodka, you can only be a winner. The bottle impresses as well as the unusual flavor. It is great for a "Martini" cocktail or a "Bloody Mary". Effen Cucumber Vodka can also be mixed with other green ingredients. The elegant Effen designer bottle for this Vodka flavor is medium green in color. The upper part of the bottle is semi-transparent. It always reminds me of a very sophisticated perfume bottle design. If you look for a great alcoholic present for stylish people, this could be it. Effen Vodka is a statement about your own style as well as the good taste of the Dutch distillery. If you serve a Vodka cocktail made from "Salted Effen Caramel Vodka" plus a quality Ginger Ale, that will be a cocktail highlight. Take one and a half part of "Effen Salted Caramel" Vodka and add four or five parts of good Ginger Ale. Pour these over ice. Enjoy. The caramel flavor in "Effen Salted Caramel"-Vodka is wonderfully restrained. It is like a mere breath of caramel on your tongue. You experience some sweet and salty undertones which are quite delicious in combination. Pour me another one, please. It is too good not to fall for it.
Vodka is not recommendable for decision-making
I have to admit that I would love to fall for a Vodka as stylish as this. Look: When all pure Vodkas do not seem to differ so much when you drink them, you need some other criteria to choose your favorite ones. Alternatively, you'd just have to love them all. That is not my choice because some are always better than others. I may decide one day which Vodka brand is my favorite one. But how can I decide when so many of them are great premium products? You have to taste a lot of Vodka shots and cocktails to get deep into the matter. When I am an expert, I will let you know. The universe supports Vodka-lovers in changing their appetite, needs and preferences at times. Good. Because right now, in this very moment, I am in love with Effen Vodka. I bought all five bottles to make my bar look more impressive. I must admit that I also sip on a Vodka cocktail with flavored Effen Vodka sometimes. And why not. In Switzerland, where I come from, we admire the good things. Effen Vodka certainly is non-compromising in style and taste. You just can not throw an empty Effen bottle into the waste bin. If I ever saw a stylish and elegant bottle design that makes it impossible for me to throw away when it is empty, it is an Effen Vodka bottle. I better drink slowly so I do not empty this bottle too fast. The "Slow Food"-movement people will probably applaud me.
What do you think about Effen Vodka? Let me know on FB or Twitter!