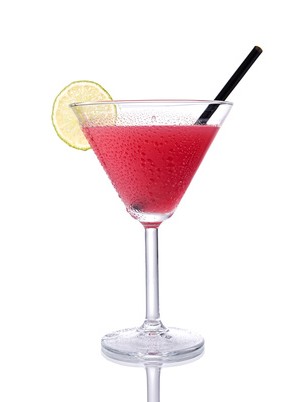 The Classy Cosmopolitan
Dictionary.com defines "cosmopolitan" as "familiar with and at ease in many different countries and cultures," and it is entertaining to realize that that definition also describes the cosmopolitan cocktail. This cocktail is one that is sipped in sophistication at every venue that sells mixed drinks, and though it is a well-known and fairly famous drink, there is no fear of it becoming dull or provincial! The cosmopolitan, whether it is drunk Paris, New York, Johannesburg or Buenos Aires, is a drink for the calm sophisticate.
Like a mysterious socialite who simply appears one day, full of mystery and charm, the origins of the cosmopolitan is a little murky. During the heady days of the 1930s, there was a drink that used the same name that was quite popular at the New York speakeasies, but instead of being made with citron vodka and cranberry juice, it was made with Scotch whiskey, Irish Whiskey, vodka, Italian vermouth and French vermouth. While this drink sounds like a stunner in many ways, it has little to do with the lovely pink drink that we enjoy today.
Common bartender lore places the cosmopolitan's real birth sometime in the late 70s to the early 80s. The person most strongly associated with the drink was a South Beach bartender named Cheryl Cook. Cook worked on South beach between 1985 and 2000, and at the time, she observed that the martini, in its signature triangular glass was coming in. It was a big favorite with both men and women, but many women were having troubles handling the martinis themselves because they are comparably harsh.
Cook saw a need and fulfilled it. Her cosmopolitan owes a great deal of its origin to the then-famous kamikaze, only with a few extra twists and a splash of cranberry juice to give it that lovely pink color. Cook recalls that within minutes of the drink's creation, the entire bar was ready to try it, and her citron vodka ran out, leaving her jamming lemon slices into a bottle of unflavored vodka.
Part of the pleasure of the cosmopolitan is absolutely its sweet taste and the pink color. Sex and the City gave the drink a serious boost, and Cook confirms that the creators of the show were her avid customers when she began producing this elegant drink. While some people decry this drink as too sweet or too frivolous, no one can deny the appeal of this charming cocktail served in its martini glass.
A cosmopolitan is a simple drink to make, but it can be a slightly challenging drink to make well. When you want to mix drinks, you need to have this signature cocktail in your repertoire, so make sure that you learn to mix it right from the beginning. A little bit of attention to detail is all that it takes to make sure that you are doing this drink right; after that, the rest is experience and practice.
After you learn this recipe, we guarantee that you will be practicing it often!
Cosmopolitan Recipe
Ingredients
* Cocktail Shaker
* Ice
* 1 ½ ounces citron vodka
* 1 ounce Cointreau orange liqueur
* ½ ounce lime juice, fresh squeezed
* ¼ ounce cranberry juice
* Strainer
* Chilled cocktail glass
Fill the cocktail shaker halfway to the top with clear ice.
Add all of the ingredients on top of the ice, and close the shaker. Make sure that the shaker is actually closed!
Shake the contents to a rhythm for a slow count to 10. This is about the length of time it takes for a cocktail to be thoroughly mixed.
Strain the contents of the shaker into a chilled cocktail glass.
Serve immediately with a lemon wedge or a curl of orange peel.
When making a cosmopolitan, remember that you should not drown it in cranberry juice or serve it with a cherry. The overwhelming flavor profile of this drink is not sweet; it is tart! Do not make the mistake of adding sweet items to it because doing so results in a rather insipid, uninspired thing.
Though the cosmopolitan itself is at this point a classic, some variations might interest your guests. After all, the cosmopolitan itself could be considered an extreme variation of a kamikaze, and look at how that turned out.
For example, when you want an even stronger citrus flavor, why not make a cosmocello, where limoncello is substituted for lime juice? This is a lovely option for that one partygoer who cannot get enough citrus in their life.
Sometimes, pink is not all that, and when you have a friend who loves cosmopolitans but hates pink, make them a blue cosmo! A blue cosmo replaces the red cranberry juice with white cranberry juice and the Cointreau with blue curaçao. For something really special, leave the red cranberry juice the way it is and use the blue curaçao to get a purple cosmo.
When you are craving something just a little wild but still about as elegant as they come, consider the champagne cosmo. Replace the Cointreau with White Start champagne for a bubbly charmer of a drink. Some people love the lightness of the champagne cosmo, while others consider it a bit of a blasphemy, but you will not know which you think until you try it!
The cosmopolitan is considered one of the last true cocktails to be produced in the twentieth century, and it takes its place as a glamorous drink for glamorous people. Give it a shot, and drink up!
How did you like it? Let me know on FB or Twitter!