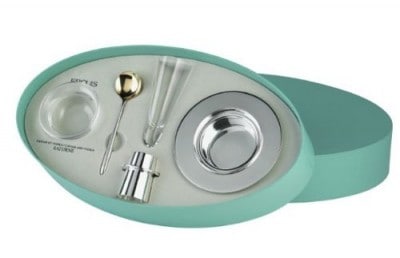 X-Mas still is coming closer…
The grand finale of our present present list is opened by the Stoli Five Piece Glass set for a private cocktail bar. Arc International presents a fine set containing of two Vodka-Martini glasses, two Vodka shot glasses and the Stoli cocktail shaker plus four recipes for cocktails for your convenience. Graphic prints of Stoli specialties decorate the shot glasses. If you want to make someone happy with Stoli Vodka cocktails like "Ohranj & Cream", "Vanil Cosmo", "Razputin" or a "Cranberry Screwdriver", you can order your present at once.
Just a few people lack enough style to drink their Vodka directly from the bottle. Surely these people are not worthy of a present that will cost you some bucks. If you want to make a valuable present, you could fall for a set of two "Grey Goose Vodka Bottle Rocks Glasses". An even more valuable present is a Ravenscroft Crystal 5-Piece Vodka Set or a Caviar Vodka Set Gift Box . The latter one is handmade in France and contains of an elegant silver-lined caviar server plus a fitting spoon, a Vodka stand and a silver shot glass. All these handcrafted items are safe for dishwashers and have a quality that lasts for a lifetime. If someone had invented a Vodka bottle that lasted a lifetime, we'd miss testing an unknown brand for a change. No deal.
Did you know that John Coltrane sang about Vodka on his Album "Interplay"? While this album is not available in the moment, "Copper Moscow Mule Mugs" are. It is an open secret amongst mixologists that the "Moscow Mule" Vodka cocktail was the first Vodka cocktail ever imported to the United States. That was back in 1940. Obviously this event started a Vodka Cocktail hype in the USA. The fact that this Vodka cocktail is still widely consumed, speaks for itself. Here we present a fine copper replica of the original copper mug that was produced for this cocktail. To try the authentic "Moscow Mule" cocktail, mix Smirnoff Vodka with six ounces of ginger beer and half an ounce of fresh lime juice. Pour the cocktail over the ice cubes in the copper mug. If you would like to give away a set of four "Moscow Mule" mugs, you can order your present right here. Vodka mugs like these are made from pure copper. In this case, the producer used recycled copper only. The environment says "Thanks!". Beer and other alcoholic drinks can also be enjoyed with these nostalgic presents. "Moscow Mule" mugs look fine in a rural setting.
If you are looking for less nostalgic presents, you can go for a set of six modern looking Soho Vodka shot glasses from Reed and Barton. These elegant and timeless shot glasses reflect a classic Russian style. The hand cut crystal Soho shot glasses are larger than usual which comes in handy. Even more elegance can be found in a Vodka set from Mikasa barware. Six slim glasses and an elegant decanter make for a very stylish present. Even ladies would fall for this present.
As I said: It is comparably easy to please Vodka fans – even if you refuse to give away an alcoholic present. Vodka lovers are not necessarily endangered to become hooked on alcohol. Most of them are what the French people call a "bon vivant". They celebrate life as long as it lasts.