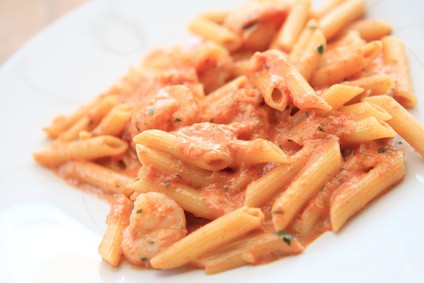 I watched reruns of a few old cooking shows so I thought it'd be an easy task. Turns out I'm more of a Keith Floyd than a Nigella Lawson. Remember Keith? I'm still not sure if he could cook at all – but it must have been a great time for him on the telly: always a glass in one hand and a bottle in the other. It didn't matter if the Beef Wellington turned out to be a bit of charcoal – it was at least fun to watch ("We just cut away the dark pieces. Now how about a drink?").
To be honest my first attempt at a recipe needs some tuning. I followed every step but in the end it tasted like a drunken sailor back from a rum rampage. Hmm, I need to rework my metaphors as well *giggle*. So keep your fingers crossed, I'll give it another go!
By now all of you will know how versatile Vodka is as a drink: you can drink it straight, mix it to wonderful cocktails or have it readily available in your MacGyver-style first aid kit (trust me on that). What may be news to you: you can also cook with Vodka.
Every once in a while I cook for a special someone or more likely for my girls (as the special someone turned out not so special at all – besides on a weirdo scale). We are huge fans of the Sopranos – watching every minute of it clung together on the sofa. So I thought: why not combine my passions. Cooking with Vodka straight from the Soprano family cookbook.
– 500g penne pasta
– 500g good, tinned plum tomatoes or ripe fresh fruit
– a dash of olive oil (here's a good one!)
– 1 small onion, finely chopped
– 2 garlic cloves, crushed
– 1 tsp sugar
– 5 juicy tomatoes
– 200ml red wine (of course an italian one)
– fresh basil
– fresh thyme
– 80ml Vodka
– 3/4 teaspoon dried crushed red pepper
– 2 chicken breast
– Parmesan cheese
Cut the chicken breast into finger sized strips. Pour over some Vodka to marinate the pieces. Meanwhile drop the fresh tomatoes into a pan of boiling water and leave them there for a minute. Take them out and peel off the skin. You can skip that step if you want to poke fun at your friends for having tomato skins hanging in their teeth for hours (just remember: you do to!).
Heat the oil in a saucepan on a medium heat and add the onion. Soften for five minutes, until translucent but not coloured. Stir in the garlic and cook for another two minutes.
Put in the tinned tomatoes, add sugar and thyme. Season lightly.
Pour in the red wine and let it cook for about 10 minutes on a low heat.
Take a pan, add some olive oil and heat it up. Add the chicken breast strips and give them a good roasting – let's say four to five minutes. Season to your liking, add the crushed pepper. Splash in a gulp of vodka, feverishly scrape the bottom of the pan to loosen the roasted aroma of the chicken breast. Then pour chicken breast and Vodka into the tomato sauce. Add the fresh and chopped tomatoes to the sauce and let it simmer to finish.
Meanwhile cook pasta in large pot of boiling salted water. Drain. Ready!
To serve take some pasta, mix it with a generous amount of sauce. Add some basil and grate some fresh parmesan over it (of course for your ex special loved one you can use dried parmesan that came straight from a sawmill)
Lovely, isn't it? If you're not planning a night out you can serve the pasta with garlic bread – but I think its light but flavoursome taste can stand on its own.
Livia Soprano won't give you a pad on the back for cooking this but probably she won't stab you with a blunt kitchen knife either. I hope you like my second attempt at a recipe just as much as I do!
Buon Appetito!