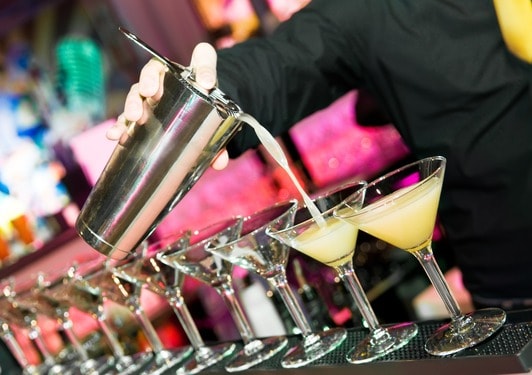 1. Moscow mule
This delightful beverage is an excellent point to start from when experimenting with cocktails. Audrey Saunders drew inspiration from it to create the Gin-Gin Mule. It is also very delicious as it is.
2. Martini
When a Martini is made with vodka, it results into a cocktail bursting with flavor. The vodka martini is ideal when crafted with the best vodka available. This cocktail can be beautifully artistic, it has character. Since the flavor is subdued, a dry vodka martini is an excellent pick. This cocktail should be ideally served chilled. There are several offshoots of this cocktail, including the Irish martini, April Rain and the Vesper martini.
3. Vesper
The vesper is a wonderful drink, it brings out a remarkable quality of vodka. Carefully crafted vodka has the capacity to support and bring out the other flavors in a cocktail. In this cocktail, vodka highlights and pushes the other flavors to the fore front. The flavors highlighted by vodka in this drink are lemon oil, cocchi, lillet and the gin. This gives a soothing and refreshing cocktail.
4. Cosmopolitan
When properly crafted, this cocktail lacks the adulterants and the characteristic sour taste of ordinary mixes. This cocktail is moderately sour, this is its essence, cocktails are never sour. Thinking of other sour cocktails like the margarita and the sidecar, this cocktail rocks when properly made. The Cosmopolitan vodka is an ideal template for light fruit flavors like cranberry juice. Pineapple, melon, kiwi and apple can also be used to craft a variant of this cocktail.
5. Bloody Mary
One interesting fact about this cocktail is that it can go with just about any dessert. You can imbibe it with plate of biscuits, cake, among others. This cocktail can be loaded with varnish, but not everyone prefers this. This cocktail is ideal for Sunday mornings. Many morning drinkers love this tomato juice and vodka highball. The best thing is that this cocktail can be tailored to fit your individual needs.
6. Black Russian
No vodka low ball beats this favorite. The Black Russian cocktail is very simple, it only combines vodka and coffee liqueur like Kahlua and is served on the rocks. It has served as a template for many other cocktails over the years, all of them have become very popular.
7. Screwdriver
This vodka cocktail is very loaded with fruits. Actually, you should think of the screwdriver as a fruit juice loaded with vodka. Basically, this is all that this drink is composed of; vodka and fruit juice. The orange and vodka version of the screwdriver is the most popular. You can accentuate the screwdriver with grapefruit and cranberry to give the drink a little something. This cocktail is just as refreshing as it is simple.