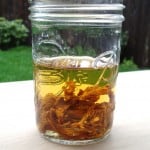 Vodka with weird aromas
Vodka is a comparatively tasteless liquid, unless you prefer its flavored versions. Alternatively, you probably inhale your Vodka in cocktails only. If you wish to learn something about some weird infusions of Vodka, just read on.
Infuse your plain Vodka at home
Vodka lovers can find uncountable variations of flavored Vodka in the shops. Almost every Vodka flavouring can challenge your tastebuds. Of course, Vodka purists would never ever test flavored Vodkas. The best reason to say "NO!" is that flavored Vodkas are quite pricey. But there is hope if you want to confront your tastebuds with unusual experiences. You can infuse any Vodka at home. You shock or delight your best friends with Vodka-creations which are outstanding and unique. It is interesting that home-made infusions often taste better than those you can buy. How about "Rhubarb and Custard Vodka"-cocktails? The original receipe came from "Domestic Sluttery" but it is quite amazing to create a home-made version. If you ever try a Vodka in bright pink, it might be a "Marshmallow Vodka"-infusion that Elizabeth Sellers of "Rosalilium" invented. The deep coloring was accidental, but Elizabeth never apologized for the taste.
Vodka-infusions for every occasion
Absolutely decadent is a "Caramel & Black Truffle Salt"-Vodka. Ey, who knows "Black Truffle Salt" existed? Good that the people at "Domestic Sluttery" take us back to reality. When christmas is advancing, you might want to warm up to the inevitable frustrations with a home-made "Christmas Pudding"-Vodka. Thanksgiving might call for a "Bacon Maple"-Vodka-infusion. I prefer to swallow any christmas frustrations with my family with a shot of pure Vodka. You might think differently. If you need a "booze infusion index", get it here. Another great inspirator for Vodka infusions is this website. From "Rhubarb-Ginger"-Vodka-infusions to a promising "Strawberry-Banana"-Vodka you can get it if you really want.
College experiments
College students are very experimental when it comes to food and alcohol. The consumed liquids must be cheap and contain powerful percentage. When the liquids taste good, you don't refuse them either. Vodka parties amongst students confront you with slightly uncommon or even weird flavors. The more exotic an alcoholic elixir sounds, the more interesting it will be. You can get intoxicated by "Bakon Vodka" in a "Bakon Chocolate"-Martini, for example. To test this Vodka infusion, you just need to mix two ounces of "Bakon Vodka" with the same amount of chocolate liqueur and some cream. Absulotely delicious! Instead of a highly caloric real cake, you can check on trying a combination of very sweet "Three Olives Cake Vodka" with whipped cream plus candy sprinkles. The result is a very enjoyable Vodka for ladies. You can also mix two onces of the Alaska-based "Smoked Salmon Vodka" with the same amount of "Clamato juice pepper". Add some splashes of a razor-sharp Tabasco sauce, one teaspoon of horse-radish and a splash of Worcestershire sauce. This drink was invented by sheckysnightlife.com. It should be served ice-cold.