Have a blast during your next party when guests are playing this exciting roulette drinking game! Rated a total 4/5 stars on Amazon, this fun drinking is pretty straightforward. Fill the included shot glasses with different alcohol and have each guest give it a spin to determine their fate. A fun way to have people interact and get drunk at the same time. With all of that in mind, at such an affordable price tag it also makes the perfect gift!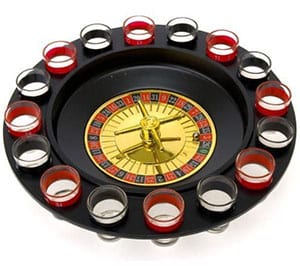 This 16-Shot roulette drinking game set comes made by Maxam and with selected shipping outside of the US. It's the perfect party starter and weights a total of just 3 pounds. Please drink responsibly. For ages 21 and over.
$10.00
Buy Now
This fun game gives you the ability to pick your poison! Perfect for anyone who likes drinking, and even better for those who also like to gamble. Product comes with 16 shot glasses and 1 roulette wheel. Please remember to drink responsibly. This drinking game item is intended for adults over the age of 21. Get this amazing roulette wheel game while it's on sale today!