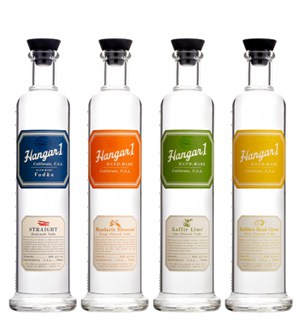 From Fruit Brandy to First Class Vodka with a Spin
Whenever I have a party planned or just some friends coming over the same question keeps coming up: What shall I offer to drink. Now, vodka is surely one of the favorites for a good party. Plus, some of the best drinks and cocktails are made with vodka and that is something for everyone. I mean: what kind of person is afraid of a vibrant color and tasty treat?
The next problem arises when I stand in front of the well-filled shelves in the shop. At least a dozen different kinds of vodka presenting themselves in various colorful labels and shapes. What to choose? Surely, only an idiot would select depending on shape and color seeing that all that counts is the quality and taste.
So let us take a closer look on a small but very special brand to help us with our decision.
An Unique Distillery
The Hangar 1 distillery has to thank their name to the fact that it is actually situated in a hangar. It was founded in 1982 by Jörg Rupf. Back then it was still called St. George's distillery and produced eau de vie. When Rupf met Ansley Coale in 2001 they founded Hangar 1 and introduced the process of making eau de vie to distilling to make flavored vodkas. They started producing in the Hangar 1 of the old Alameda Naval Air Station in California. And although the hangar changed through time they kept the iconic name.
The Classic Suit
A strong, unique, and independent bottle might draw a lot of attention to the eye while the kind observer still struggles: is the desired object a bottle or an adult toy? With the simple style of the Hangar 1 bottle this mistake is not easily made, although everyone has probably heard of someone having been brought to the hospital with a bottle stuck in strange places.
The bottle for the vodka takes on a simple and classic form. No ridiculous guessing. The different labels are clearly distinguishable by color. Nothing more to ask of an innocent bottle.
A Straight Vodka for all Sexualities
Let us skip the boring part and go straight to the more important bit. Taste. Drinking. Which is what you are supposed to do with a vodka, although it is a very versatile beverage. And on which you should be basing your purchase decision. Luckily, Hangar 1 comes in very different flavors so there is something for everyone. I start with the straight, normal, strong vodka.
Different from others Hangar 1 vodkas are distilled directly from the fruit and made with mid-western wheat. This gives the vodka a distinctive, fresh, and fruity taste. Since the process is so different from other vodkas it is smoother and does not burn when drinking. You can enjoy a drink at room temperature as well as using it in various recipes. I myself certainly enjoy a well distilled, gentle vodka which is, on top of all, home-sourced.
The Three Fruity Full Flavored Bestsellers
I prefer to not go after straight all the time. Some experimentation and open mindedness has more often surprised me positively than killed me. If you are also a bit adventurous let me recommend these three all time favorites of Hangar 1. One by one since all of them deserve their own spotlight.
I start with the Kaffir Lime because I like it lemony. Distilling lime is bloody difficult. It takes a lot of work and the product is not always desirable. We all know these cheap lemon products that smell and taste like urinal cakes. Since I love the taste of lime and lemon this is the most disappointing experience when it comes to that flavor. Hangar 1 uses a special kind of lime for their vodka. As the name spoils: The Kaffir lime. First, it looks amusing in itself since it looks wizened when ripe. Hangar 1 uses it because of its intense flavor and rich aromatic oil content. Infused into vodka it creates a complex flavor with traces of wood, pepper and cucumber in addition to the unique lime. Perfect, well rounded, and definitely worth a try.
The next unique flavor is Mandarin Blossom. Made out of the flowers of the tree since the fruit itself is too unstable to be distilled to its full potential. Another amazing flavor consisting of 50 pounds of flowers. Catching the complex taste of orange, flowery freshness, and much more. The fact alone that one bottle takes about 50 hours of harvesting is proof enough that no one would go through so much trouble for something mediocre.
Third, Buddha's Hand Citron. Made out of another curious looking fruit. It is the grandfather of lemon, milder and thus allowing to distinguish its finer flavors as well. Not just the acid aroma but also a fine taste of jasmine and basil, apricot and fruitcake. Lemon with an old twist, so to speak.
The Rest of the Entourage
Apart from the mentioned flavors so far the distillery keeps experimenting and trying out new things. Namely five other flavored vodkas.
Maine Wild Blueberry has been introduced in 2011. A fresh new flavor made with blueberries from Maine for all those who love the purple fruit. Another berry has been used: the raspberry. The Fraser River Raspberry flavor is a limited edition made with selected berries from the Fraser River valley. Unfortunately, the Spiced Pear is also limited and only seasonally available. The pears are from Colorado and are blended with a delicious note of nutmeg and cinnamon. For all those who like it a bit hotter Hangar 1 introduced Chipotle. As the name suggests it is made out of Jalapeños, Chipotles, and other hot chili peppers. The Wasabi bottle was sold in 2006 and is no longer available. For all who love the Japanese spice it is worth to watch out if bottles emerge.
All in all? Try it. Seriously. It is worth it.