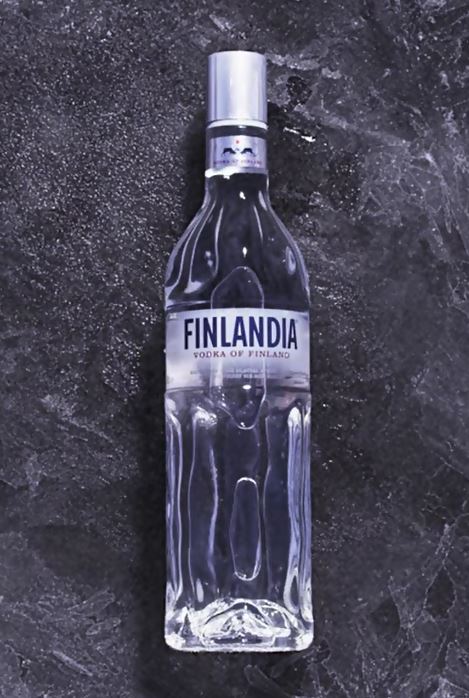 Finlandia Vodka
I always dreamt to travel around the world as soon as I was grown up. But then, some objections got into my way – for example Malaria, Ebola, diarrhea and such nuisances a traveler can get. You start to look for compromises. My travels are nowadays partly done in Vodka. Today we travel to Finland.
The land of the midnight sun
Finland. The Scandinavian land of plenty. Especially zillions of mosquitoes. A real treat for travelers. Lakes, forests, endless skies over uninhabited landscape. BUT: Mosquitoes are everywhere in summer. Up to now I could not convince myself to travel Finland because of that. But with Finlandia Vodka I at least do the honor of loving its best product. I recently started my Finlandia Vodka travels at the Finlandia website where each bottle of Finlandia Vodka is presented on a different background. Finlandias "Coconut Vodka" is presented in front of white flower petals, Finlandia "Lime Vodka" in front of a green fir background. If you move your computer-mouse above the bottle, you can enter and read the slogan about this Finlandia bottle. Finlandias "Platinum Vodka" is presented in front of birch-trees. For "Finlandia 101" they chose stones. What a nice idea. The background photos show what Finland is all about – minus the mosquitoes. But maybe Finlandia Vodka is also a great remedy against mosquito bites?! At least no-one in Finland seems to flee their native land because of these little vampires. On the contrary: They seem to have a jolly good time most of the time. I suspect the Finnish people developed the talent to enjoy whatever they get. The inventors of Finlandia Vodka added the narcotics to this adorable talent – just in case it does not work at all times. Well, that is adorable too. From Finlandia "Classic Vodka" to all the flavored ones you have a good range of narcotics or anti-depressants in hand. You just don't let the sun go down on you, even if it is the famed midnight sun.
The best working place ever
In Finland you do not have too many job opportunities. So when you are interested in spirits, you need not become a guru. You can also become a master taster at Finlandia. That was exactly what Markku Raittinnen chose after he had quit jobs like telephone installer, granite miner or truck driver. Such a colorful biography would have been a catastrophe in other countries of this planet. But in Finland, it is quite normal. Markku is now a "walking encyclopedia" on Vodka and cares for the excellent quality of all Finlandia bottle contents. Others care for a unique bottle design, for product innovations and for excellent campaigns to make Finlandia known. Glacier water and Finnish barley are the sole ingredients for Finlandia Vodka. The Finlandia distillery in Kostenkorva belongs to "Altia Corporation". From there, the distilled alcohol is transported to Rajamäki. Here the strong Vodka-basis will be diluted to a drinkable Vodka. Some percent of the Vodka-basis will be flavored and all Vodka is carefully bottled afterwards. Finlandia handled the introduction of flavored Vodkas very carefully. That was not really necessary, but it proved to be a good marketing tactic.
Do me a f(l)avor!
It is well known that the Finnish people are as puristic as Russians: They prefer their Vodka stiff and unchanged. For the distillery though, export was as interesting as for all the other Vodka producers. So in 1994, Finlandia introduced their "Cranberry Vodka", followed by "Finlandia Lime Vodka" in 1999. In 2004 Finlandia introduced two new flavors, namely "Red Berry Vodka and "Mango Vodka". Vodka with a flavor of wild berries followed in 2005, Finlandia "Grapefruit Vodka" in 2006. Tangerine and "Blackcurrant Vodka" in 2009 are the latest flavored Finlandia Vodkas that were introduced. All these Finlandia Vodkas managed to be perceived as authentic Finnish products, even if "Mango Vodka" is not typically Finnish. However, the famous Finnish Vodka brand received numerous awards. Finlandias unflavored "Classic Vodka" ranked first in the "Ultimate Spirits Challenge" of 2011. Finlandia's Grapefruit fusion can be found amongst the Top 20 Vodkas of the world. Wow! How can I resist to test such a noble Vodka?
Bottles change. Vodkas don't.
I did not manage to buy the original Finlandia bottle design by Tapio Wirkkala, but I got me a Finlandia "Rose Grapefruit Vodka" in the new bottle design by a team of international designers. Their design wanted to transport the feeling that the bottle was iced. The taste of Finlandia Vodka is unchanged. If you like something out of the ordinary, try this Vodka brand. I was surprised by the richness of the grapefruit flavor. The delicate citrus aroma of Finlandias "Grapefruit Vodka" is destined for the use in cocktails. I am not so much of a cocktail drinker, I admit. However, when someone offers me a "Bonfire", a "Pink Salty Dog" or a "Grapefruit Collins" at an outdoor barbecue, I would not say No. I could always say that I drank it out of scientific interest. The mild taste, the rich flavor and the elegant Vodka bottle met my taste. Maybe Finland is not so bad at all? I mean: You travel rainy Scotland because of its Whiskey distilleries. Why not travel Finland in spite of its mosquitoes? I will ponder on this question while testing another bottle of Finlandia.
What do you think about Finlandia Vodka? Let me know on FB or Twitter!