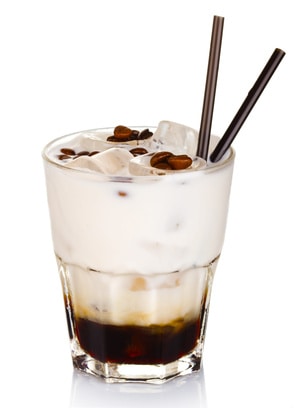 The Icy and Imperial White Russian
Immortalized in the cult classic film, The Big Lebowski, the White Russian as a mixed drink is one of the most basic cocktails that should be included in your repertoire as a mixologist. It seems a little unreal that the White Russian drink, which is, after all, just a mix of vodka, coffee liqueur and cream, should be so tasty, but it is true. This drink is served all over the world, and is one of the most popular vodka cocktails around. When you are putting together drink recipes, make this one a top priority.
The first thing that you need to know is that a White Russian cocktail has little to do with Russia. The White Russians were imperialists who continued to support the deposed tsar at the beginning of the twentieth century, but they had far more important things to worry about than tasty drinks.
Instead, the White Russian takes its name from the fact that flavorless vodka is one of the prime ingredients. Vodka, alcohol derived from fermented potatoes before being strained through charcoal, is one of Russia's most recognizable imports. It was not until after World War 2, when Americans encountered Russian troops in the European theater, that vodka became anything more than a curiosity in the United States. It was around this time that White Russian and the Black Russian attained their popularity.
It will always be a point of contention between drinkers whether the Black Russian or the White Russian is better. The thing to remember, however, is that the only difference between the two is the addition of cream to the White Russian. The Black Russian is sharper with a bitterer note, and the alcohol taste is significantly more pronounced. On the other hand, the cream obscures a lot of the alcohol taste while combining with the coffee liqueur to make a drink that wonderfully sweet and rich.
What it boils down to is what you want. Black Russians are for people who want to taste their alcohol when they drink it. White Russians, on the other hand, with their sweet taste, are best for people who are novices when it comes to drink, who don't like the taste of alcohol and who really want to get tipsy fast! There is a certain very real accessibility to White Russians. These cocktails are not complicated, either in taste or in preparation, and they are perfect when you are trying to throw drinks for a very diverse crowd.
At the most basic level, the White Russian is a crowd pleaser. The Dude, the bathrobed character from The Big Lebowski, uses them as his main source of calories, and there is a popular drinking game where drinkers attempt to match his consumption over the course of the movie.
Whether you want to get a little closer to the spirit of a cult film, or you are just looking to add a great drink for lightweights to your repertoire, consider the basic White Russian recipe below, and then consider how you can dress it up a bit with some of the following variations!
Recipe
Ingredients
* Old-fashioned glass
* Ice
* 2 ounces flavorless vodka
* 1 ounce coffee liqueur
* Heavy cream
Fill an old-fashioned glass with ice.
Pour in 2 ounces of flavorless vodka.
Top with 1 ounce coffee liqueur. Kahlua is fairly traditional at this point.
Top off with a large splash of heavy cream. The more cream is used, the more mild, milky and sweet the drink tastes. Some people want just enough to lighten the drink, others want their White Russians incredibly pale.
Push a stirring stick or a bar spoon straight down into the cocktail, and twirl it between your fingers for just 20 seconds. This drink is not one that you want to over-mix.
Serve.
The secret to making a great White Russian is to know for whom you are making it. Unlike other drinks, where there seems to be a platinum ideal for what it should be, the White Russian is drink for people of different tastes. If you are dealing with a friend who does not really like the taste of alcohol, mix it up weak and make sure that there is plenty of cream. If you have a customer who loves it strong, increase the vodka and make sure that you just use a few drops of cream. White Russians are great no matter what crowd you are playing to.
When you are looking to add a little bit of American rock and roll to your creamy white Russian, replace the cream with half-and-half, and throw a dash of dark soda over the top. Pepsi or Coca-Cola works best, though Coca-Cola is traditional. When you stir it up, you have a Colorado Bulldog, and this is one is always popular with a rowdy crowd looking to have a great time.
Of course, the most famous White Russian variation is the Black Russian, but you can take the Black Russian one step further, by skipping the cream and throwing in a dash of lemon juice at the end for a delightfully bright and crisp flavor.
For the adorably named Blonde Russian, skip the cream and simply replace it with an Irish cream liqueur, like Bailey's. Do be careful with this one as the alcohol content can knock you back if you are not careful!
When you are looking for a more slimming version of the White Russian, try on the Anna Kournikova, named after the famous Russian tennis star. Instead of putting in heavy cream, add an equivalent amount of skim milk to the mix. This drink is less sweet and less rich, but if you are trying to count your calories or you have an adverse relation to heavy dairy, the Anna Kournikova might be the drink that best suits you!
A well-mixed White Russian is a charming and popular thing, so if you are going to learn one drink, this is absolutely the one to choose!
What do you think about it? Let me know on FB or Twitter!