Anyone who likes to mix a drink or two on the regular needs a good cocktail mixer! Cocktail mixers in your home are an excellent way to make a variety of different mixed drinks any night of the week. This essential bar piece comes with a cocktail shaker, strainer, and lid. It holds a maximum capacity of 24oz and is made from stainless steel. A must have for Martinis!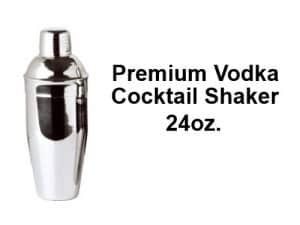 Stainless steel cocktail shaker set that comes with shaker, strainer, and lid. This cocktail shaker holds a maximum 24 ounce capacity and is perfect for Martinis. Order this premium mixer today and have it shipped tomorrow!
$9.99
Buy Now
Order your highly-polished premium vodka cocktail shaker set online today and receive it before your next party or get together. Don't forget to look over our other great vodka accessories before completing your order!