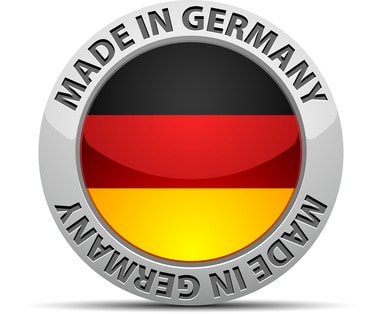 Some people might see Switzerland as an ignorant country when it comes to Vodka making. You can only find one single Swiss Vodka brand. The excellency of "Xellent"-Vodka comes from pure Titlisgletscher glacier water. The basis of "Xellent"-Vodka is rye. I imagine that our home-made Vodka does not play a major role in Swiss nightlife or any subculture here. This time, the international Vodka makers win over our own product, although we tend to let our products win over others most of the time. In Vodka matters, we are not better off than Mongolia, Iceland or Vietnam. Is it Swiss understatement or are we connoisseurs of the best Vodkas from abroad? The truth is that Germany is better off than we are. At least when it comes to home-distilled Vodka brands.
Germanys own Vodka-brands
In Germany, several native Vodka brands can be found. Some of them are exclusively served in the exquisite nightclubs and hip discotheques of Berlin. For example,"Our/Berlin Vodka" – a start-up project initiated by Pernod Ricard – represents the modern lifestyle of Germanys capital city. Fitting the demonstrative understatement of the Berlin club scenery, the bottle does not impress with exaggerated elegant design. Usually, you drink ,"Our/Berlin Vodka" with fruit juices. Not every Vodka is interesting without. The makers of "Bazic Vodka" counteract the lack of "spiritual personality" with a black website. One look at the bottle design and you know that "Bazic Vodka" strives to be served to stylish people. This Vodka is made in Hamburg. The northern folks in Germany like a stiff wind and a stiff Vodka to balance inner stiffness. Another northern Vodka is "Spirit of Sylt". "Sylt" is what "Marthas Vineyard" is to the Americans: a posh holiday resort with fine beaches, dunes and straw hatched houses for several million bucks. The brand-name "Spirit of Sylt" is shortened to "S.O.S" which is the international signal for "Help!" Introduced in 2012, this German Vodka impresses with surprising aromas. It comes together with a premium "Spirit of Sylt" gin, which implies the use of both alcoholic beverages in Martini cocktails. Those who regularly visit the famed island in the Baltic Sea will spread the news about this Vodka for sure.
Any other native German Vodkas?
As a Swiss citizen I am sad to say: Yes, there are. Several other brands can be listed. You will find that Vodka "Gorbatschow" is made in Germany. It comes in two pure and one flavoured versions. Many German vodka brands are made from wheat. Good examples are "Berlin Adler"-Vodka or the priced "Wodqa", sold in a steel can with a blue "W" at the front. It takes guts to name a German wheat Vodka "WTF?". But then, it is a Vodka liqueur in two classy bottles: One is filled with tiny gold particles and flavoured with blackberry aroma, the other WTF-bottle comes with silver particles and caramel aroma. The promotion of this excellent German Vodka is concentrating on golf magazines and the like. Various scenes and subcultures in Germany seem to be tempted by stylish and exclusive Vodkas which can not be bought elsewhere. WTF does that say about Germany? At least we can conclude that Germans like Vodka. Even a wine cellar in Bernkastel-Cues found that out. At Peter Mertes, you can find "Bree Vodka" made from grapes. "Held Vodka" is distilled from sugar-beet mash. "Porn Vodka" is not made from dubious ingredients, be assured. The image of Vodka is not quite sexy – but "Porn Vodka" does not exactly change that to the better. Maybe it changes the image of Germany as being stiff and conventional, who knows. Young German coma drinkers seem to fall for dangerous Vodka-infusions like "eyeball-shots" and "Vodka-Tampons" lately. These were originally introduced by American youngsters. Oh my. Any Generation chooses its weapons for self-destruction. And regrets them later.