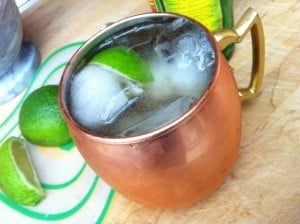 Taming the Moscow Mule
Though vodka did not become widely popular in America until after World War Two, it did have a reputation in some circles as a curiosity from the mysterious east. It was a specialty import that most people never had access to and was considered a high-class alcohol to be enjoyed by the rich and famous in the early twentieth-century. Vodka has always been a favorite ingredient in cocktail drinks, providing a strong alcoholic kick while blending in new and fascinating ways with various flavors. The combination of vodka and spicy, sour flavors has always been popular, and from that flavor combination came the Moscow Mule.
When you are looking for a Moscow Mule recipe, you'll find three main ingredients: vodka, ginger beer and lime. While these three ingredients will mix into a delicious drink, they lack the shining factor that made the drink so famous and eye-catching. Purists and vodka cocktail enthusiasts will tell you over and over again that Moscow Mules need to be served in copper mugs. These bright copper mugs are part and parcel of this drink's appeal. If you can find a bar that uses these drinking containers, you know that you have a bar that takes the Moscow Mule seriously!
When you are looking at mixed drinks with vodka, you usually expect to hear an origin story that begins in New York, where some of the most famous bars and mixologists can be found. On the contrary, the Moscow Mule was born on the west coast on 1941. At the time, a spirits and food distributor named John G. Martin and the president of Cock 'n' Bull Products named Jack Morgan were looking for a way to expand their companies. As they drank together, they decided to combine two of their best products. For Martin, that was vodka, and for Morgan, that was ginger beer.
Together, Martin and Morgan created the Moscow Mule recipe, and as their crowning touch, they found a manufacturer who had an excess of bright copper mugs. Legend states that Martina and Morgan attracted big stars of their day to drink the Moscow Mule by offering them in personalized copper mugs. With a copper-plated invitation like that one, who could say no?
The main reason why you might want to serve the Moscow Mule in a copper mug is because not only is it traditional, but it will also keep your drink colder and give it a wonderfully fresh taste. Some people claim that the copper adds a metallic bite to the drink, while others state that it neither adds nor takes away from the experience. While you can mix the Moscow Mule in a highball glass, a copper mug is iconic and down right flashy!
Moscow Mules, like many vodka cocktails, are experiencing a revival in terms of popularity. If you love the tang of ginger beer and the crisp bite of lime, make sure that you add Moscow Mules to the menu the next time you are tending bar!
Recipe
Ingredients
* Ice
* Copper Mug
* ½ lime
* 2 ounces vodka
* 5 ounces ginger beer
Chill the copper mug thoroughly.
Fill the mug with large, very cold ice cubes. Some famous bars used crushed ice, but historically, that just seems to water down the flavor.
Squeeze ½ lime over the ice, and when the lime is completely juiced, throw the shell into the glass as well.
Pour 2 ounces of vodka into the glass.
Pour 5 ounces of ginger beer or enough ginger beer to fill the glass over the vodka.
Serve.
This is a fantastic and wonderfully traditional way to make a Moscow Mule, but there has been a trend in high-class Manhattan and Chicago bars where homemade ginger syrup replaces ginger beer.
To make a simple ginger syrup, grate ginger until you have a large cup of gratings. Save the juice from grating process. Then add the gratings and the ginger juice that you squeezed into a jar with a screw-top lid. Get as much ginger juice out of the gratings that you can. Add between ¼ to ½ cups of water to the mixture. Add 1 cup of white sugar to the mix, and screw on the lid. Shake the jar until the sugar dissolves completely. At that point, the syrup is ready for use.
To use ginger syrup instead of ginger beer, replace the ginger beer with just 1 ounce of ginger syrup. This is a good way to create a more artisanal cocktail. When you are done with the ginger syrup, you can store it in your refrigerator and use it for other alcoholic drinks or desserts.
The Moscow Mule has not been prone to as many variations as some of the other vodka cocktails out there, but there are a few. For example, instead of adding ginger beer to the syrup, adding ½ ounce of Goldschlager instead will create a Golden Mule. To give this Hollywood favorite a tropical twist, replace the ginger beer with a dash of a fruity liqueur, like Pimm's No. 1 Cup.
You might also try to set off your drink with different garnishes. Some people dispose of the lime peel, and instead, they plant a round lime slice on the edge of the cup. Other people add a sprig of mint, while still others insist that a slice of cucumber provides the right summery touch.
When you are looking at making the Moscow Mule one of your favorite drinks, decide how you are going to serve it. There are a lot of choices here, so think about what you want to see on your bar!